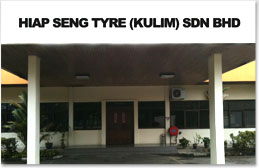 In 2007, the company was acquired and was renamed to Hiap Seng Tyre Kulim Sdn Bhd.
Located in Kulim, Kedah, Malaysia, the factory sits on a 10 acres land. The core business of the company is manufacturing of solid tyres and rubber related materials.
Our manufacturing capability complies with international standards upheld by premier quality assurance and stringent manufacturing excellence with the testimony of the audited and fully certified quality management of ISO9001-2000. Our certification is reinforced with our ability to contract manufacture for several international brands and corporations.