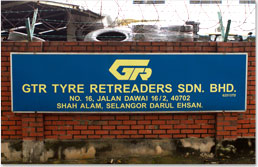 GTR Tyre Retreaders Sdn Bhd was acquired in the year 2003 located in Shah Alam, Selangor, Malaysia. Ever since, GTR has seen strength to strength growth. Its factory sitting on a 1.5 hectares land area, GTR is focused on producing highest quality of retread tyres and retreading services since incorporation which has over 30 years of vast tyre retreading experience and know-how. We have garnered continued trust for our brand and our retread services with our unrivalled commitment consistency, our high profile customers would know.
Our retreading facility is an accredited quality management certification under ISO9001-2000 and Malaysian Standard 224 (MS224). GTR emphasizes on strict conformity of every element in the making of "General" retread tyres by ensuring its consistency in delivering tyres that are optimum performance, cost effective and safety assured. Each and every tyre is stringently inspected to ensure that they achieve approved quality standard for retreadability and safety, GTR is entrusted.
We produced revolutionary Precure and Hotcure retread tyres in a comprehensive range of
With our complete range of retread tyres and services, GTR remains as the one stop center for any retread requirements Malaysia has to offer.