Vision Statement
Envisioned to be the Tyre Specialist of Choice in Malaysia and the world over
To be acknowledged and respected Malaysian made international brand of products and services
To develop breakthrough innovations and technologies in tyre products and resources
Mission Statement
Tyre and related activities are our core business while upholding our core values of quality, safety and environmental friendly
Continuous development and add value to tyre industries with world renowned strategic partners
As a hub for research and development of tyres especially environmental friendly tyre and sustainable tyre resource management
Quality is the utmost attribute the company maintains and achieving highest standard is our life – "Quality is our life"
ACTIVITIES
We build our niche to serve you better with our comprehensive tyre offerings encompassing tyre trading, manufacturing, retreading, services, tyre management, repair, vulcanising and rubber related materials . It is with the combined offerings that Hiap Seng Tyre can deliver reliable, efficient, advance and cost effective tyre solutions.
In tandem with the company's aspiration to take tyre management and solution to the next level, our group of business units operate cohesively with expertise abound to realise yours. We are able to bring value to every customer as we continually challenge ourselves in delivering the highest profile of service satisfaction and product quality in tandem with our core values of quality, safety and environmental friendly.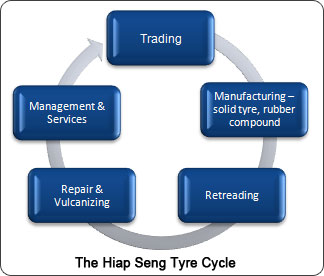 Our total tyre life cycle activities have matured overtime to pursue highest performance and continued lifecycle all to pass down maximum return on investment and cost savings to clients via our renowned in-house repair, vulcanizing and retreading capabilities to expand the lifespan of tyres.